10/8/21 7:56 AM | JUSTINA BONILLA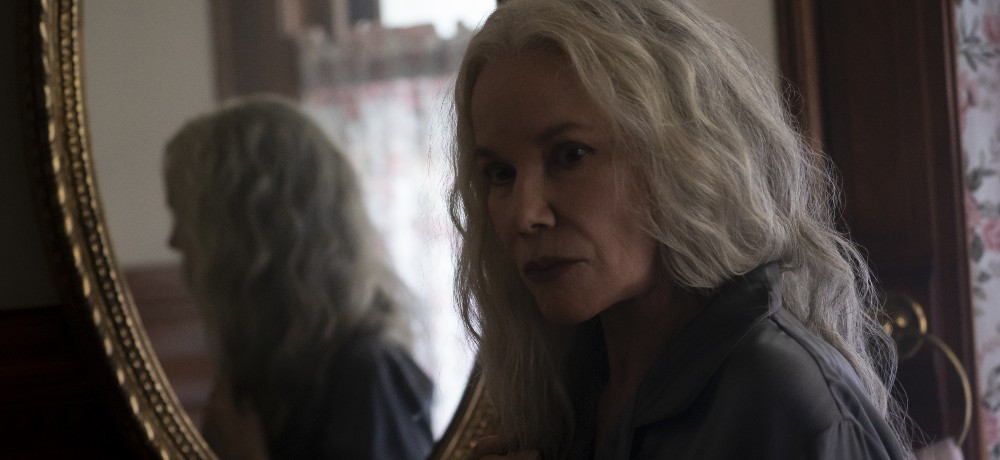 The Manor, one of the four films of the Amazon Studio and Blumhouse Television series Welcome to the Blumhouse, features a strong backbone of producers, including horror veteran producer Sandy King andhorror newcomer Richard J. Bosner.
King established herself in film as a script supervisor on a wide variety of films, including Sixteen Candles. She's best known for her collaboration with horror icon John Carpenter, in multiple roles as an executive producer, producer, and script supervisor for many of his beloved films, ranging from They Live, to Big Trouble in Little China, and In the Mouth of Madness.
Bosner has produced several independent, including Other People and Black Bear, which both premiered at the Sundance Film Festival. He was a co-producer for The Wannabe, which also featured as an executive producer, film titian Martin Scorsese.
Together they share their love for the horror genre, their experiences as producers, and their participation with The Manor.
What is your go-to Halloween movie?
King: I'd say X the Unknown. It's a hammer horror film.
Bosner: Hush, Hush, Sweet Charlotte. I really love that movie. It's kind of why I love The Manor too. It's got that gothic horror vibe.
What inspired you to pursue producing?
King: I got trapped into it. It was nothing I aspired to. I was happy being a crew person.
Starting back when I did a TV movie with Carl Borak. He drafted manager associate producing a thing called Key Tortuga, shot largely in the Bahamas. He kept giving me more and more responsibility, and said, "Okay, you're an associate producer." I'm like, "What? No, I'm happy being a script supervisor." Things like that kept happening to me, where I kept accidentally falling into the role.
Once I was with John, everybody kept asking me questions and having me do more things, just by virtue of how close I was to him. I gave up and I finally said, "Fine".
Bosner: Ever since I was a little kid, I was always wrangling my neighbors, putting them in plays and movies, making them do all kinds of things. Over the years, it kept snowballing. I do enjoy finding different creative people and bringing them all together to achieve one vision. It's really enjoyable when you find the right group of people to do that.
What do you like about the horror genre?
King: It's an allegorical genre and an allegorical story format. Good horror is talking about something else. It's got other layers to it. And you can entertain and inform at the same time. If you make Gandhi, you're preaching to the converted. If you make They Live, you're saying something else to an audience that would not necessarily walk in, if you told them you were talking about social justice and who you are. So, in a film like The Manor, we can talk about another societal issue and entertain at the same time.
Bosner: I'm really drawn to the fantastical realism of it that doesn't have to be set in reality. You can get these messages across in an entertaining way. This is only my second horror film that I've done, but I'm such a horror fan. I've always loved horror, or even though I end up doing Sundance prestige types of movies. I get to do something like this with amazing people like Sandy and Axelle, it's doesn't get any better than that.
How did you become involved as executive producers for The Manor?
King: We drafted Richard as a problem solver. I had worked with Axelle on developing the script and wanted to see her surrounded in a comfort zone that led her to a more European sensibility. That let her do something female-centric and something that would be considered ageist, in what other people considered a teen genre. We share an agent. So, being together was an easy fit.
At the same time, Richard was a great producing partner to bring into it, because it was basically Richard and I against the world, getting Axelle's version there. And Richard had no choice.
Bosner: It was such a great experience. I felt very blessed to be invited in to help execute Axelle's vision with Sandy. Axelle did an amazing job as a director, leading with kindness. That sometimes gets overlooked. She did take care of the crew and appreciated what the crew did on the movie. It was always very apparent. That's such a great environment to be in when you're creating, to just feel that around you the whole time.
What is your favorite scene in The Manor?
King: I really liked the scenes between Barbara Hershey and Nicholas Alexander. I thought the relationship of the grandmother with her grandson, and watching him be torn between the two realities, really worked for me. Nick did a great job being torn and having to face the things he did.
Bosner: I really like the climax of the movie. That was really fun. We did that out at the Golden Oaks Ranch in the middle of the night, with the snakes and everything around us. We did have a snake wrangler, but I kept thinking the snakes would get us, but it didn't so we were fine. That was pretty crazy, but fun.
Sandy, how important was it to get the message out about ageism?
King: I happen to think it's now become more ageless when you can get the studios to recognize that. First of all, everybody for whom it used to be a teen genre is now my age. They didn't quit loving it. Also, the same way horror used to be considered for 14-year-old boys, but more women now embrace horror than men. We're brought into the world bloody and screaming, so that may have something to do with it.
It's a matter of convincing studios that their old presumptions are outdated. You notice that the European films that everybody likes to stream, don't have those rigid ideas that you have to be between 17 and 23-years-old to be cast, you know, white bread stuff. They're much more integrated, both age wise and diversity. They've embraced those things a lot longer than we have in this country. So, I thought it was great that Amazon chose this one before the Blumhouse association. And that's what our origins with this film are.
Richard, are you looking to produce more horror films in the future?
Bosner: Yes, absolutely.
Is there a chance you will work together again on another film in the future?
King: I'm dragging him everywhere.
Bosner: Yeah, she's stuck with me. We're both stuck with each other. So there we go.
The Manor is now available to stream on Amazon Prime.
LINK: https://dailydead.com/welcome-to-the-blumhouse-interview-with-the-manor-executive-producers-sandy-king-and-richard-j-bosner/