12/7/21 4:06 PM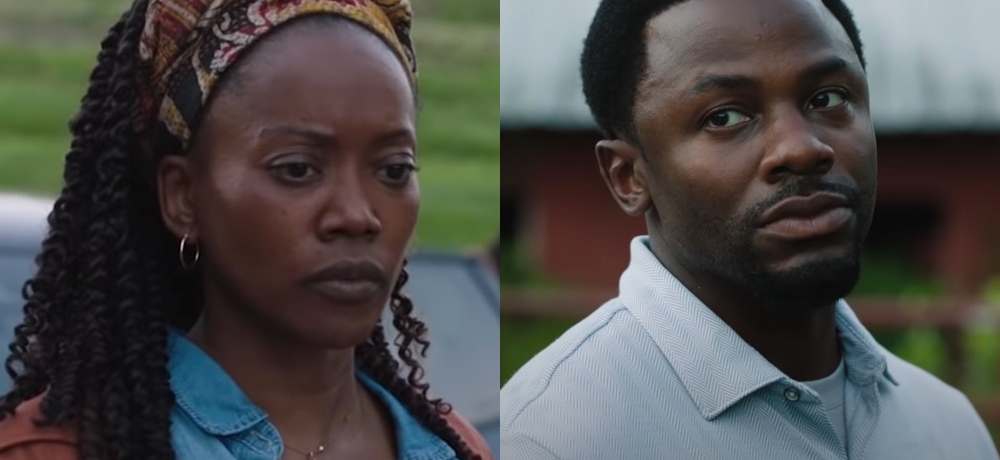 American Refugee, the upcoming Blumhouse Television horror thriller film premiering on December 10th on EPIX & available for Digital Purchase via Paramount Home Entertainment, examines how the greatest danger can be those closest to you.
Directed by Ali LeRoi, American Refugee shows a modern America where the economy has collapsed, leading to mayhem and anarchy. The Taylor family, headed by Greg (Derek Luke) and Helen (Erika Alexander), must take shelter with their children in their mysterious neighbor's bunker. As the terror above rampages on, the Taylors must navigate their way within the terror below or pay the ultimate price.
Alexander is beloved for her role as Maxine in the groundbreaking television show Living Single. Her horror credentials include Get Out.
Luke made his award-winning film debut in Antwone Fisher, co-starring with Hollywood icon Denzel Washington. His horror credentials include The Purge television series.
Alexander and Luke share their experiences with horror, American Refugee, and other creative endeavors.
What is your favorite horror movie and why?
Erika Alexander: I wasn't allowed to watch horror growing up. I had a preacher father. But I tell you one thing, he loves movies and he watched horror. So, we would sneak it.
I didn't watch The Exorcist till I was grown. That was one of the most frightening things I've ever seen. I love Aliens, which is not considered necessarily a horror. It's more of a mash-up between sci-fi, horror, and action. That's a horror movie to me. And frankly, Misery is also a great horror movie.
Derek Luke: My wife loves Aliens. Misery, that's my favorite.
Horror is something that I've been more interested in because of the hybridity of so-called horror and the supernatural. It was the first time in the last several years where I thought, "You know what? I think there's a storyline that I am open to being a part of that world. But before I can't really say I was a horror fan. It's just more like music. You know, it's like R&B, where things are being mixed, like horror, culture, and present-day topics.
As actors, what do you like about performing in horror and thriller roles?
Erika Alexander: I haven't really been in a slasher or things like that. But I was in Get Out, which is a great horror movie. I was part of the comedic element of Get Out. I didn't realize it was a horror movie till I saw it. Then, this obviously comes into horror play. You can see that from the trailer. I think great horror really is about things that you can do nothing about, but you're stuck in. And that's what's horrible about it. The horror comes from the drama.
In American Refugee, they're stuck in a place, because of the collapse of society around them. They'd rather be anyplace but there, but they cannot leave. So, we all ask ourselves, "Do we do this, or do we do that?"
The idea of horror is to place you somewhere where you can't do, and your choices are limited. And it keeps closing you into a corner. Then what do you do? And that's when a person acts. That's when everything comes to the fore.
I think the best thing about an actor is when their back is against the wall, you sort of see the best version of themselves. As an actor, that can be great acting in horror. And Derek should do more of them because no one would see him coming because of that baby face. He would truly be evil.
Derek Luke: Horror is like a new adventure to me. You didn't see a lot of people of color in horror. But what I realized opposed to running from it, I'm actually running towards it, because there's a new audience. I would love to bring some cool narratives that match with the genre, but also make people think.
I'm excited about what opportunities are ahead. Maybe people like Erika and myself can do some collaboration where we become EPs and creators. Just add more twists to it. I think that's where we are in the nation with cinema, streaming, and all that stuff. That's what I'm excited about.
How did you become a part of the film?
Erika Alexander: I got a call that Ali LeRoi wants to talk to you. Of course, you say yes. I had a conversation with him. He told me about it. He's a great storyteller. He's a wonderful writer and director. I found out this was his second [feature] directing stint. He did a great job. So I was interested in working with him.
Obviously, the bonus is Derek Luke, because everyone knows and loves him. They adore Derek for a lot of reasons. He's easy on the eyes, he's symmetrical. There's something pleasant about him. But there's also the beauty of him. He's really done well for himself in film, with amazing roles. Antwone Fisher, where I first saw him, and most people saw him, was amazing. It's one of my favorite movies. That seared into my brain the opportunity to work with him.
And then American Refugee had great kids: Zamani Wilder, Jessi Case, Peyton Jackson, and Vince Mattis. There's also Sam Trammell. That's a great cast. That's a good time.
Derek Luke: My team sent me the project, I really responded to it, and I read for it. Then all the other elements came. It was traditional for me to either meet or read for a project. But this was exciting because it was a new world.
I got to see how Erica is a force and all the other amazing actors. I got to see her gifts and see the rest of the cast. I think people are gonna be excited. Her instinct, on and off-screen, helped put some magic in this project.
What was your experience like working with Ali LeRoi as a director?
Erika Alexander: Ali was great. He was different. You could see him working things out in his head. He would stop and actually think. There's a lot of directors who don't think. I think also feeling us out and seeing how differently we work was important. We worked together as a unit. But we have different ways of communicating that.
I think Derek and I are aligned with the fact that we're not necessarily talkers about what we're going to do. We just want to do it. My thing is to not overthink anything, to try to come into it and see what the day holds. If I don't think I get there, or whatever it is, then I move on and say, "Well, next time, because there will be."
Ali's a talker. And he wants to communicate with us. So, I'm hoping that he had a good experience because I don't know how much I talk. But I think once he accepted how we were much more or less cerebral than we were more feeling, then it all gelled. He didn't have to change and we didn't. We came to an understanding. We started to learn and respect that. And that's about trust, too.
Derek Luke: I only knew Ali in passing. And a lot of my trust in life, let alone directors, has a lot to do with me knowing your body of work. So I came in suspicious of Ali because I didn't know him. I didn't know how to trust him. And what I come to admire about him is his methodical way and approach to writing and directing. That's not usually my way, because my methodical way is more of an instinct IP, where he was more of a mental processing IP. And it's good to be in those situations, so you can grow.
Since you've worked as a producer on documentaries like John Lewis: Good Trouble, are you looking to do more work as a producer in the future?
Erika Alexander: Yes, very much. That's why I created Color Farm Media. We call ourselves the Motown of film, television, and tech. The idea is to go and seek new voices. I think the new William Shakespeares, the new Martin Scorseses, and the new Mary Shelleys are in the neighborhoods and places that we haven't mined. Marginalized people, who've been ignored for centuries.
It's a new time. It's not just going to go through the white male filter. It's going to change. And I'd like to be the person who helps collaborate, make partnerships, and do those things. Not because it brings a lot of tribute to me. It's because it's necessary. If we're going to change the world, we've got to change the story. I think a lot of things have happened, especially you see in the news now, is because people have the wrong story. And they believe those stories, so I'm down to do a lot more of that, and I am.
Is there a chance you might consider being in an active role behind the camera?
Derek Luke: That's a great question, but no. This is something that I hadn't really talked to anyone about, except people that are in my inner circle, but for years, I've been hearing about pedigree. But lately, what's been percolating is purpose.
I've realized that stories that I desire to tell have more to do with my purpose, opposed to just the pedigree. When it goes down to that, I am excited to embrace behind the scenes. But it's time, as Erika was sharing, time to switch the lens and the filter. To mine the gifts and talents where people haven't looked for a long time and that's exciting.
LINK: https://dailydead.com/interview-with-american-refugee-stars-erika-alexander-and-derek-luke/